Indestructible construction, Made in Holland
Gorter introduces the new generation of RHT roof hatches. These roof hatches feature an extremely strong and patented construction. Thanks to several modifications, the roof hatch is even more resistant against unexpected extreme loads, both during construction and in general use.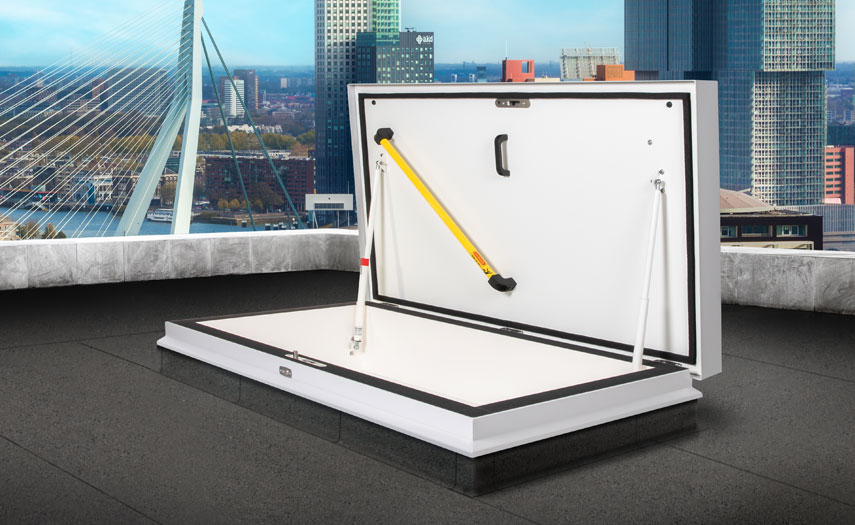 Improved features and functionalities of the indestructible and sustainable RHT roof hatch:
Made and Designed in Holland
New and improved, patented indestructible construction
Trusted, with CE(ETA) certification
Now available directly from stock in sizes up to 1000 x 3000 mm
Fully standardised to metric dimensioning
New dimensioning, even better access
With the introduction of the new generation RHT, three new sizes are added to the standard delivery programme. Two of these versions concern larger hatches, which offer particular benefits when it comes to transporting materials to the roof. The larger roof hatch allows for, for example, solar panels to be transported to the roof for installation or repair. The hatches are also exceptionally suitable for combining with ascending materials, such as the Gorter fixed stairs.
The following hatches are added to the delivery programme and will be available directly from stock:
More information
On the RHT product page, you can find all general information and specification texts for the RHT roof hatch. Using the menu at the top of this page, you can also navigate directly to the roof hatch combinations with ladders, scissor stairs or fixed stairs. You can also contact our technical sales team directly or request a quote online.