Ladders, attic ladders and stairs - Gorter®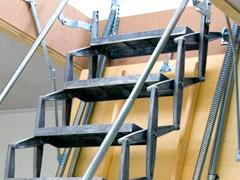 Gorter® ladders, attic ladders/ scissor stairs and fixed stairs are certified by TÜV NORD according to EN standards on safety, construction strength and operation. These certifications also concern the standard combinations with a Gorter® roof hatch. The Gorter fixed stair has adjustable steps (patent pending).
The use of Gorter ladders and scissor stairs / attic ladders is safe and easy. The used materials and construction guarantee an optimal stability and reliability.

Scissor stairs/ attic ladders and fixed stairs are supplied for a standard room height of 3 meters.
Scissor stairs are a top quality alternative for attic ladders. Especially in professional applications where reliability and labour safety is required.