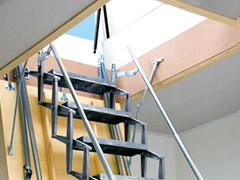 Retractable scissor stairs - attic ladders consist of a casing with a wooden ceiling panel. A hand rail is included and easy to install. The stair is fixed hinged on the internal surface of the ceiling and is made of cast aluminium. A hook-on rod is included.

Room height scissor stairs - attic ladders
Scissor stairs - attic ladders are supplied for a standard ceiling height of 3 meters. If the ceiling height differs ± 10 mm please adjust the telescopic handrail and level the steps.

To shorten on site: remove one or two scissor elements and reinstall the bottom element.
Extension: is possible as an option, except the extension of type Small.

The material choice and construction provides a high stability and load bearing capacity. The load is tested up to 150 kg.

Safety scissor stairs - attic ladders
Easy and smooth operation. Effort less than 3 kg-force
Adjustable anti-skid steps
Hand rail can be mounted on the left or right
Prepared for securing with a padlock
Certified by TÜV NORD in accordance with EN 14975