Gorter is introducing the new WAG glass floor door. A floor door with which you bring daylight into an underlying room and increase the spatial experience. One can safely walk on the floor door and it offers a unique view of a wine cellar or basement, for example. Thanks to the sleek design and the subtle black frame, the floor door can be installed in almost any interior.
It is also possible to install it between an attic floor and the underlying floor. The transparent connection is very strong, both in terms of load capacity and in aesthetics.
Walkable with a unique view
A special experience. Walk on the floor door with a direct view of the underlying room. Thanks to the three-layer glass plate, you can do so safely. The safety glass (ESG/TVG) used offers protection against impact and falling through and can withstands loads of up to 450 kg/m2. This means multiple people can walk on the floor door at the same time. The top layer is extremely scratch-resistant due to the tempering of the glass.
Smooth finish
The frame is completely flush with the surface of the floor, so there are no protruding objects that you could bump against. This also makes cleaning the floor and the glass plate practical and safe.
Electric operation
The glass floor door is equipped with two powerful low-noise electric motors which are operated with the supplied remote control. The motors are protected against overloading, which means they switch off automatically in case of unwanted blockage. This prevents crushing or mechanical damage. The electric operation also means you have your hands free for a safe grip on a handrail, for example.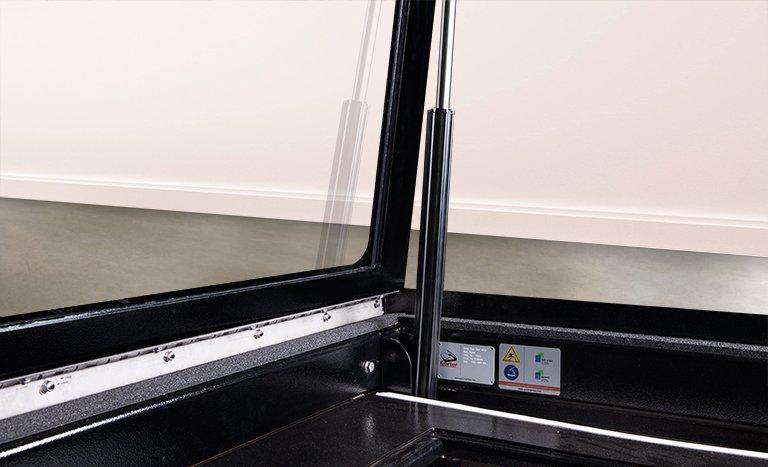 More information about the glass floor door
The WAG floor door is available in two standard dimensions, with an opening of 1000 x 1000 mm and 1000 x 2000 mm. Visit the Gorter website for more information about the glass floor door. You can in addition to the WAG product brochure also download the specifications and CAD drawings.