RHT Gorter roof hatches provide safe roof access combined, of course, with exceptional insulation. The RHT roof hatches thus have a full thermally broken curb and cover and a proven high insulation value of: Uw ≤ 0.319 W/(m².K). This minimises the chance of condensation forming and guarantees energy-cost savings. The roof hatch constructions is also soundproof and burglary-resistant.
Indestructible and Made in Holland
The new generation RHT roof hatches feature an extremely strong and patented construction. Thanks to several modifications, the roof hatch is even more resistant against unexpected extreme loads, both during construction and in general use.
Roof hatches with CE mark, ETA-15/0338
A unique feature is that the RHT roof hatches are supplied with a European Technical Assessment (ETA), undisputed confirmation of proven performance and accompanied by a CE mark.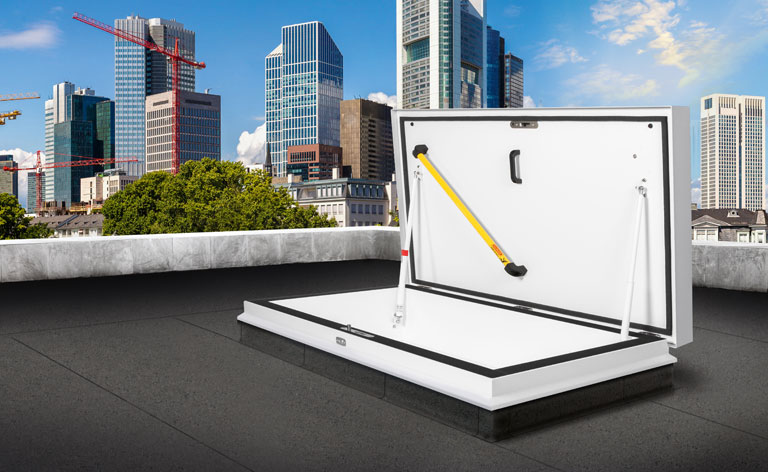 For roof terrace, office and home
RHT roof hatches can be used as escape hatches, but in most situations, they provide a convenient access to roof terraces, cooling installations, lift machine rooms, window cleaning installations, solar collectors, and other facilities on rooftops. The RHT roof hatches can be installed on flat, insulated or non-insulated roofs made from concrete, steel or wood with a maximum roof pitch of 30°.
Gorter combinations - with ladder, scissor stair or fixed staircase
A total solution for your roof access. Gorter roof hatches can be supplied in combination with a suitable ladder, scissor stair or fixed staircase. With this combination, the dimensions are matched perfectly to each other and maximum safety is guaranteed.
Gorter combinations are TÜV NORD and ABOMA certified. Using the documents supplied, it is easy to meet any requirements set out in statutory safety regulations, such as the Risk Inventory and Evaluation (RIE).
Options – Electric operation and more
In addition to the standard ladders, scissor stairs of fixed staircases, the RHT roof hatches can also be supplied with electric operation. The roof hatch is fitted at the factory with two powerful electric motors. Motors can also be subsequently installed on most roof hatch models. The roof hatches can also be supplied with electric scissor stairs.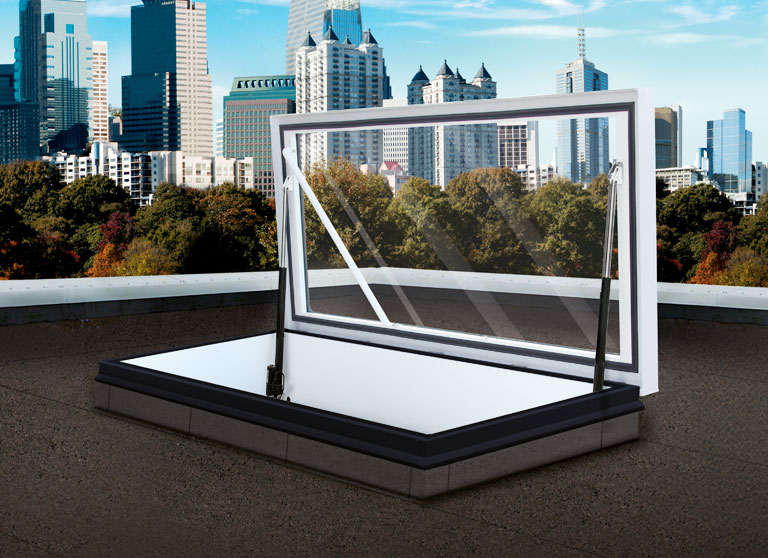 Safety first with a Gorter roof hatch
All Gorter roof hatches and combinations are safety tested to the most stringent EN standards and are supplied where appropriate with a TÜV NORD certificate, Aboma safety mark and KOMO® certificate.
One of the safety features is the hand rail in a yellow finish characteristic of Gorter, which provides a secure grip when accessing or exiting the roof. Another safety feature is the automatic locking in the open position making sure the roof hatch cannot slam down shut unexpectedly. In addition, the Gorter retractable and removable stairs/ladders such as the scissor stair and ladder can be locked easily when in use.
Interested?
Request a quote here or view specifications