Floor doors hinged and detachable - Gorter®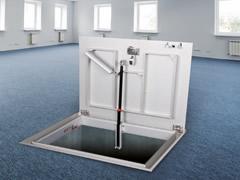 Floor doors can be supplied with a hinged and detachable floor door cover. Generally, the floor door cover will be flush with the surface of the floor. One surface mounted model is available.

Floor door covers are made of checker plate. The cover for ceramic tiles and carpet is made of aluminium sheeting. Depending on size, one or two floor door covers are installed. Floor doors are supplied including floor door cover and frame. Depending on the model, the frame of the floor door is provided with integrated anchors all around the perimeter, or welded adjustable anchors.

Features of hinged floor doors, flush

Suitable for indoor and outdoor applications
All aluminium floor door models are suitable for indoor and outdoor application. The drainaged frame of the floor door can be supplied with a ø 40 mm drain for connection to storm-water flow.

Floor door can be combined with ladder and fixed stair case
Depending on the application and size, hinged flush floor doors can be combined with a fixed vertical ladder, ladders or fixed stairs. In some cases retractable stairs can be installed.

Safe and user-friendly
Smooth and comfortable one-hand operation, regardless of the size and weight.
The counter-balance system offers assisted opening and controlled closing with one hand.
The floor door cover automatically engages in an open position and releases with one hand.
A FixGrip will be supplied for models 1000 mm plus.
Anti-skid checker plate floor door cover with flush grip.

Performance hinged, flush floor doors
The load of hinged flush floor doors is calculated in accordance with the most severe conditions of EN 1991-1 - Basis of design and actions on structures - Euro code 1 and AS 1170-1 - SAA Loading code - Part 1. Safety Class 3 and Load Factor: Yf;q;u = 1.5. The calculation is based on "Roark's Formulas for Stress and Strain", 7th Edition, Table 11.4 - Case 1a - Plate All Edges Simply Supported, Uniform Loaded. The reinforcements are calculated as beams on two supports.

Hinged floor doors are only to be installed in situations where static loading will occur. Installation in situations with dynamic loading is not recommended. Floor door, type WA-E-AL is available in loads specified by the customer.