Custom-size roof hatch - RHT roof hatch in special dimensions
Just like the other RHT roof hatches, the roof hatches in special dimensions have a robust, light-weight construction. They offer a fully thermally separated construction and lid with a proven high insulation value; Uw ≤ 0.319 W/(m².K).
Also with 1 or 2 lids or as hoisting hatch
The custom-size roof hatches, with single or double lid, offer practical and safe access to flat roofs for maintenance work. But they can also be used as material transport or hoisting hatches. The hatches can be used for flat roofs with a maximum slope of 30
Custom size roof hatch
For custom-size roof hatches, the side with the highest upright side is always the hinge side. For the dimensions, the following applies:


Special dimensions larger than 1200 x 4500 mm are supplied with 2 lids as RHTD roof hatch.

Dimensions greater than 1500 mm are supplied with a Euro cylinder lock with three-point locking.

Dimensions greater than 2500 mm are supplied with padlock-ready two-point locking. This locking mechanism cannot be opened from the outside.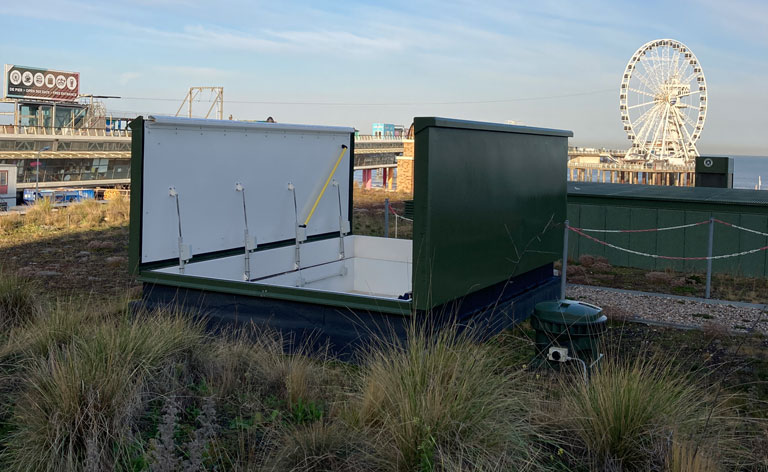 Custom sizes - with electronic operation
The custom-size roof hatches are available in different versions. For larger roof hatches, it is often practical for the roof hatch to be electronically operated. Dimensions greater than 3000 mm are fitted with electronic controls as standard.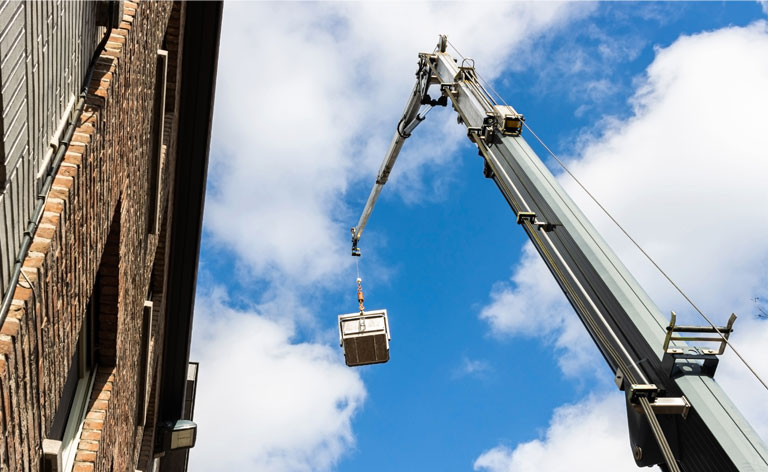 Custom-size hoisting hatch
Depending on the dimensions, Gorter hoisting hatches have two or more lids. The hatch lids do not have hinges but can be lifted using a crane connected to the lifting lugs. When the lids are removed, a net opening is created in the roof which can be used for transporting materials in or out. The hoisting hatches are only suitable for installation on flat roofs.
Custom-size fire-resistant roof hatch
The Gorter fire-resistant roof hatches can also be supplied in custom sizes. Due to their standards and certifications, these hatches cannot be supplied with two lids. The maximum size of these custom hatches is 900 x 2400 mm.
Gorter RHTEI fire-resistant roof hatch is the only one that was tested by the Efectis testing instituted in accordance with EN 1634-1 and EN 13501-2 and that complies with the classifications EI1, EI2 and E: 120 minutes.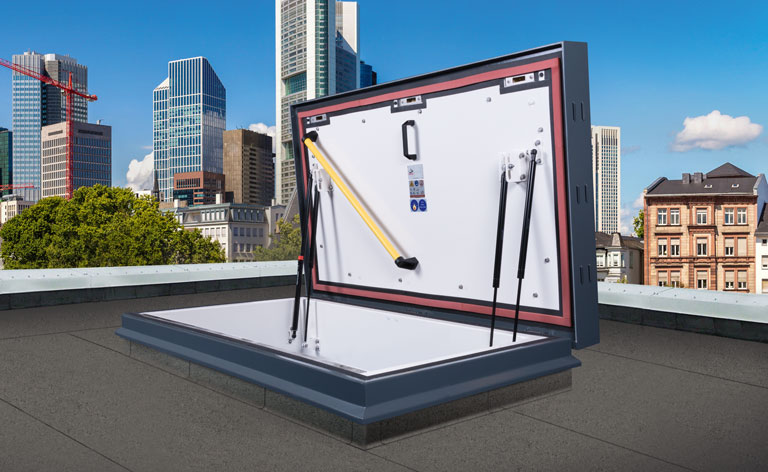 More information about custom-size roof hatches
For more information about custom-size roof hatches, please contact your local Gorter branch. Through our quotation tool, you can request an offer for a roof hatch with two lids or a hoisting hatch.