Roof access for solar panel maintenance
Solar panels require regular cleaning and maintenance. Maintenance is important for ensuring the yield and service life of your installation. But how do you or your maintenance company access the roof safely? Gorter offers a safe and complete solution for accessing a flat roof in the form of a roof hatch. A roof hatch can easily be integrated in an existing or new roof without affecting the appearance of a building.
Gorter roof hatch
The Gorter roof hatches make cleaning and maintaining solar panels easy. The roof hatch can be placed in virtually any flat roof and in combination with the correct climbing equipment offers very safe roof access. This means that risky work with separate ladders or lift platforms is a thing of the past. Not only does the roof hatch provide access to solar panels, but also to other systems such as air-conditioning and window-cleaning systems, which can be accessed easily and safely.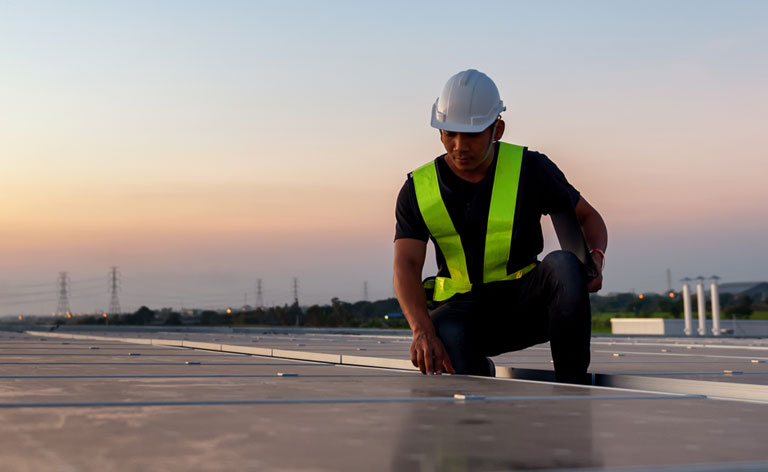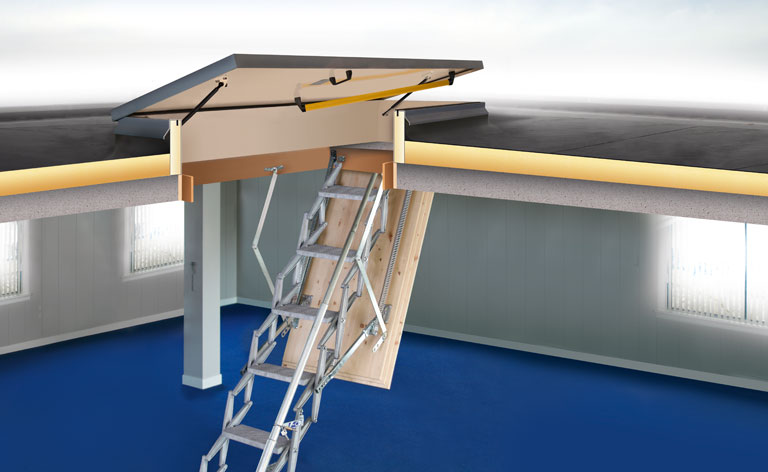 Complete roof access with ladder or stair
The Gorter roof access is a complete solution consisting of a roof hatch with a scissor stair, safety ladder or fixed stair. Uniquely, these solutions are TÜV NORD certified. This is in accordance with the standards EN ISO 14122-3: 2002-01, EN 14975: 2007-03, EN 131-1: 2007-08, EN 131-2: 1993-04 and EN 131-3: 2010-01. Together with the CE (ETA) label of the roof hatches, the certification ensures that the risk assessment required by the Occupational Health and Safety Act can be carried out quickly.
Roof hatch for existing and new roofs
The Gorter combinations for roof access are delivered fully assembled and can therefore be placed quickly in existing and new roofs. They are made of durable aluminium and due to the low weight of aluminium, they offer many advantages during installation and daily use. The aluminium is anodised and powder-coated for extra durability. All Gorter roof hatches are delivered with a 10-year warranty and a CE (ETA) label.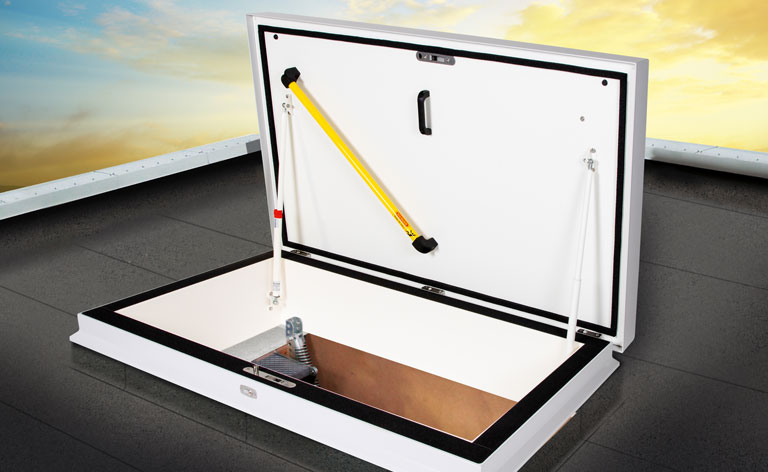 More information
For more information about roof hatches and safe roof access for solar panel maintenance, you can contact your local Gorter branch. Read more about the roof hatch applications on the following pages: Safe roof access, Accessing roof to inspect it, Roof access for flat roofs, Electric roof hatch, Flat roof window, Gorter roof hatch, Inspection hatch, Accessing roof window-cleaning equipment, Price for roof hatch in less than a minute, Accessing roof garden or green roof, Roof access hatch, Roof terrace access, Aluminium roof hatch, Roof door, Roof hatch for renovation