Roof Access Hatch
The Gorter Roof Access Hatches offer safe access to the flat roof or roof terrace. Thanks to the large opening of the hatches, materials can be easily brought onto the roof. When you combine the roof hatch with a Gorter ladder, scissor stairs or fixed stairs, you will receive a complete solution for roof access.
Supplied fully assembled
The Gorter Roof Access Hatches are supplied fully assembled for direct installation on the roof. With a very robust construction, they are very resistant against unexpected extreme loads, both during construction and in general use.

The Roof Access Hatch can also be supplied in large dimensions, making it easier to transport materials onto the roof for, for example, maintaining or replacing solar panels.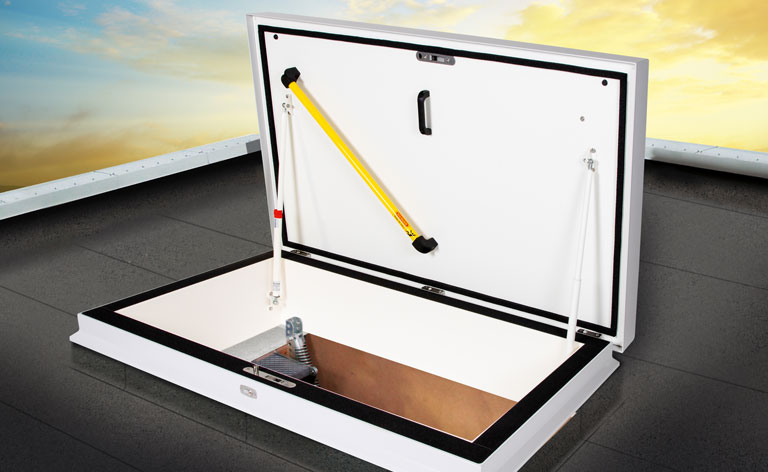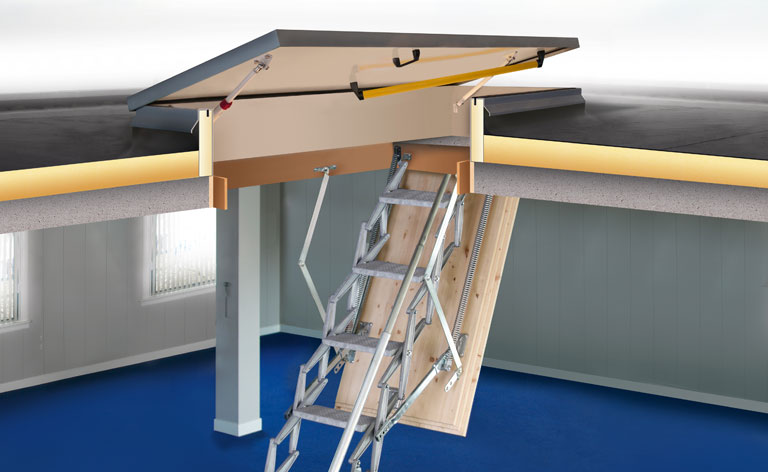 Safe Roof Access Hatch with ascension equipment
At Gorter, we offer a complete access solution consisting of a roof hatch with scissor stairs, ladders or fixed stairs. What makes these unique is that our solutions are TÜV NORD certified. This is in accordance with the standards EN ISO 14122-3: 2002-01, EN 14975: 2007-03, EN 131-1: 2007-08, EN 131-2: 1993-04 and EN 131-3: 2010-01. Together with the CE (ETA) label of the roof hatch, the certification ensures that the risk assessment required under HSE guidelines can be quickly taken care of.
Ideal for roof inspections
With a roof access hatch, you gain direct access to the roof. This enables you to easily perform inspections and maintenance of solar panels. But also the maintenance of air conditioning units, ventilation systems and lift machine rooms is simplified. In addition, you can easily perform the regular inspections of the roofing and water drainage systems. Click the button below to read ore about the Gorter inspection hatch solutions.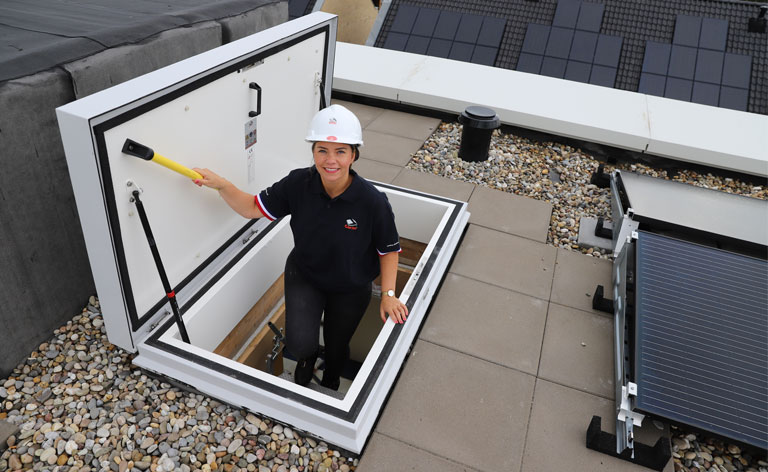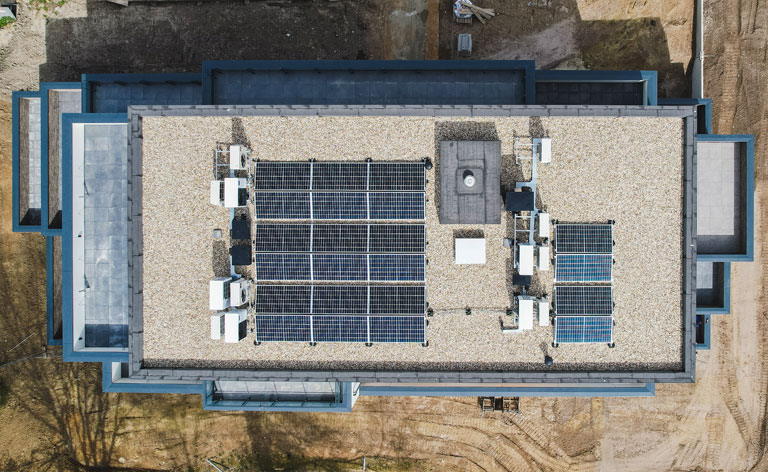 Roof Access Hatch for existing and new roofs
A Gorter roof access hatch is easy to install on an existing roof. Contrary to roof constructions, no permit is required for the installation of a roof hatch. In addition, the roof access hatch, with its limited weight, adds minimum load to the roof, meaning usually no additional reinforcements are required.
Electronic operation
Electronic operation
Roof access hatches can be fitted with electronic control systems. The electronic control system can be expanded with a control module to connect to a sensor, for example to close automatically in case of rain or storms. It can also be connected to a central alarm system.
View all possibilities under the options tab for the RHT roof hatch.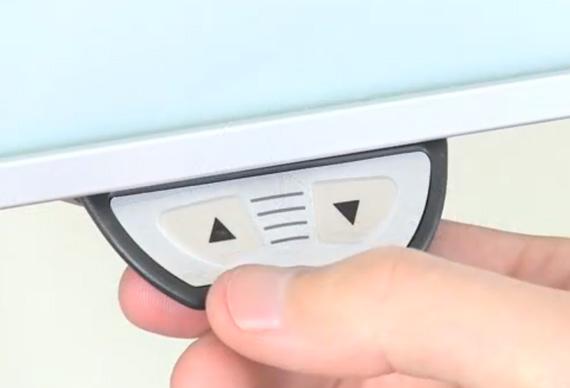 More information
For further information on access to the roof, you can contact Gorter Roof Hatches or search the following pages: Safe roof access, Roof access for flat roofs, Accessing roof to inspect it, Accessing roof garden or green roof, Electric roof hatch, Price for roof hatch in less than a minute, Accessing roof window-cleaning equipment, Roof terrace access, Roof door, Roof access for solar panel maintenance, Aluminium roof hatch, Roof hatch for renovation