Are you looking for a roof acces hatch to gain access to your roof terrace or a hatch so that you can carry out maintenance on your roof?
Gorter hatches have the right solution. We supply roof hatches in many sizes. It's even better to opt for full roof access. Our combinations of a roof acces hatch with scissor stair or hook-on ladder for this purpose provide a demonstrably safe solution. This applies equally, of course, for roof hatches you can combine with new or already existing fixed staircase.

Proven to be safe and reliable
Our roof acces hatches are designed for demanding applications in buildings covered by the Ordinance on Industrial Safety and Health. This means that only demonstrably safe products can be used. That's why all our roof hatches are certified by Aboma and TÜV NORD for safety, reliability and strength. Aboma is a reputable Dutch assessment body in the field of safety in buildings. It is with some pride that we can say that we are the only ones in there.
Heat-insulating, burglary-resistant and soundproof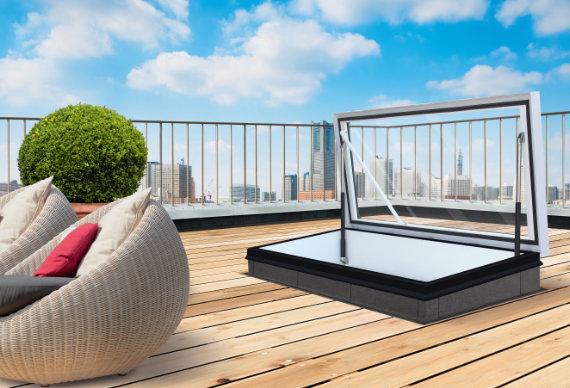 The hatches are very durable in construction and provide effective heat insulation and soundproofing (27dB). Smaller hatches can be locked with a cylinder lock; larger hatches have a 3-point lock.
Easy to operate and safe to use
Your safety and operating comfort are very important. When standing on stairs or on a ladder, the roof acces hatch can always be opened and closed with one hand, just like a normal door. The roof hatch automatically engages in an open position so that it can never slam shut unexpectedly. A diagonal hand rail on the inside helps when walking up or down the stairs. The matching scissor stairs and ladders also meet the most stringent safety requirements.
Installation roof acces hatch
All our roof hatches are easy to install and are suitable for insulated and uninsulated roofs in concrete, steel, wood etc. Roof pitch up to 30°.
Electrically-operated
Roof acces hatches can be fitted with electric control. Electric control can be extended with an operating module for connecting a sensor, for example for closing when raining or if there is a storm. Connection to a central alarm system is also one of the options.
For further information on access to the roof, you can contact Gorter Roof Hatches or search the following pages: Safe roof access, Roof access for flat roofs, Accessing roof to inspect it, Accessing roof garden or green roof, Electric roof hatch, Price for roof hatch in less than a minute, Accessing roof window-cleaning equipment, Roof terrace access, Roof door, Roof access for solar panel maintenance, Aluminium roof hatch, Roof hatch for renovation